NTS National Testing Service Pakistan Results & Schedule of NAT & GAT
National testing service Pakistan is one of the leading and the best foundation which is found all over the world .Its founded on 2002 its headquarter is located in Islamabad. It conducts two types of tests mainly one is National Aptitude Test (NAT) and the other one is Graduate Assessment Test (GAT). This service resembles with Educational Testing Service which is related to United State. NAT test is offered to those students who want to get admission in colleges and universities whereas GAT test is aimed to those candidates who want to get admission in post graduate education. It also give opportunities to those students who wants to study abroad. This organization conduct various sort of tests and research for educational use and also is conducts tests for qualifying interviews for employment in different sectors and departments. It also arranges several entry tests which are related with medical and engineering colleges.
This foundation is highly reputed organization which conducts entrance tests, recruitment tests and scholarship tests in all over Pakistan and is based on merit totally and now in all over government and private sectors candidates have to pass from this test and afterwards move further it has become the crucial step for entering to a field. This organization is surrounded by necessary rules and regulations and its main objective is to start a trustworthy, reliable and highly perfect system of performance assessment for candidates of several educational department. This remarkable foundation forms a linkage among professional and educational sectors.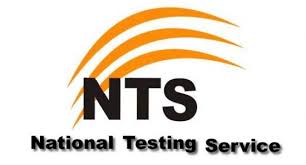 Types of Test
NTS offers various types of tests and conduct all kinds of tests in all over our country and all the tests are based on merit and fair justice there is no any kind of injustice with candidates. These tests are prepared by the experts of related fields and all the experts prepare the test papers according to their amenities and qualification.
(NAT) National Aptitude Test: NAT test is concerned with the admissions in NTS universities. Candidates have to pass a single test and become eligible for joining their respective universities. NAT assess the analytical abilities and performance assessment of the applicants with respect to their command in English language skill . NAT Schedule has been announced in this year and can be found here.
(GAT) Graduate Assessment Test: GAT test is concerned with the test of M.PHIL AND PH.D admissions as well as HEC scholarship scheme also. The test result will be considered valid for 2 years for admission as well as HEC scholarship scheme. It also provide opportunity to candidates to improve this test again. The aspirants having minimum education of 16 to 18 years are eligible to appear in this exam of GAT subjects. GAT Subject Schedule and GAT General Schedule has announced in this year and can be found here at JobsAlert.pk
Graduate Employment Test: NTS also assists the employment test for graduated students for searching jobs in different sectors private as well as government sectors. It is a partnership with the agreement with EDUCATIONAL TESTING SERVICE OF UNITED STATES. The main aim of GEE is to appraise the skills of English – organizational communication abilities and also assess the knowledge understanding and base of a person in particular subject.
Result: All the government and non-government tests which are conducted by the NTS are fair and reliable there is none of the false reports and details are found each and every candidate marks and results fairly. This organization provide all results online within a blink of an eye and extremely accurately on its website you can check NTS Results immediately without any other source and immediately they respond to our queries and in detail the all information regarding result of all individuals is listed on their official website.
[junkie-alert style="red"] Find Latest NTS Jobs: Click Here [/junkie-alert]
Post Your Comment