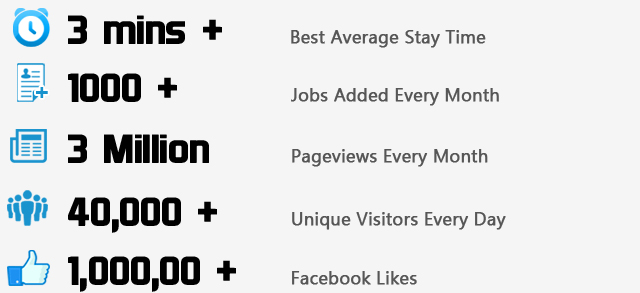 JobsAlert.pk Pakistan's No.1 career portal for Job Seekers and features among Pakistan's Top 200 websites. Our portal has a Young Audience with the age ranging between 18-26 years.
Who we are?
No.1 Jobs Portal for Job Seekers
Avg. Session Duration of the user is 3 Minutes Plus.
20 Lakh+ Unique Visits per Month
Over 6 Million Page Views per Month
Social Media Presence
1,20,000+ Facebook Likes 
14,000+ Twitter Followers 
16,000+ Email Subscribers 
900+ Google Plus 
Alexa Rank 12,000 
How we do?
Banners: High performing standard banners and other various Inventories
Social Media: Facebook branding activities among the target audience
Social Ads
Image Posting with full information on company Rs. 500/- 

(per post)

Text Posting with full information on company Rs. 500/- 

(per post)

Link with Text and Image with full information of company Rs. 1500/- 

(per post)
Job Posting at Websit
Please call or email us for this query.

Terms
– All rates are for one month.
– We accept Paypal (for online transactions) and Online bank transfer for payments of advertising.
– 100% advance payment required.
– The banner rates do not include banner designing.
– Banners can be in SWF, PNG, JPG & GIF format with file size up to 25 KB.