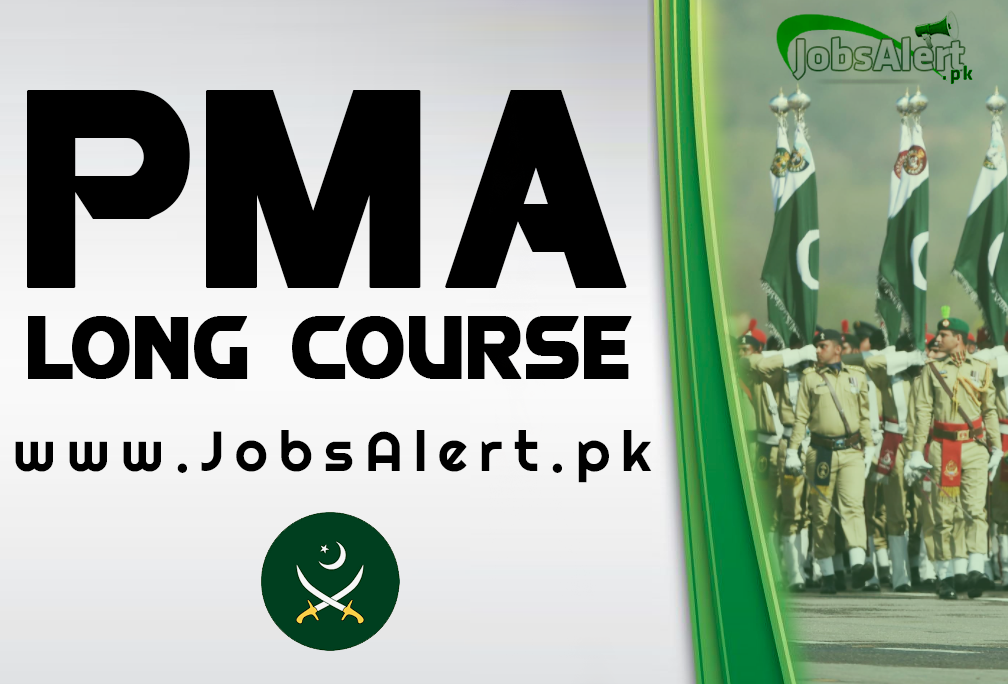 All PMA Long Courses 2023 Full Details with Requirements
In what way is PMA Long Course different from PMA Short Course? Young people who want to join the Pakistan Army commonly ask this question. Through the PMA Long Course, you will become a member of the Pakistani Army as a Commissioned Officer of combat arms and supporting services. After the selection procedure consists of, a written test, physical test, intelligence test, medical test, and personal interview, PMA Long Courses announces twice a year which is open to qualified, mentally and physically fit individuals.
PMA (Pakistan Military Academy Kakul) will undertake two years of hardcore training after the final selection. During the training period, four semesters each last for six months in duration.
The cadets participating in PMA Long Course 153 will receive the training they need in order to serve the nation as officers and formulate strategies to defend the country. A Cadet passes out as a 2nd Lieutenant after completing the two-year training program.
Join Pak Army PMA Long Course 153 Details
| | |
| --- | --- |
| Country: | Pakistan |
| Organization: | Pakistan Army |
| Gender: | Male |
| Marital status: | Single (The program is open to married personnel who are over 20 years of age in the Armed Forces) |
| Course Offered: | PMA 153 Long Course |
| Job Type: | Permanent |
| Course Duration: | 2 Years |
| Application Start date: | 09 Oct 2023 |
| Application End date: | 17 Nov 2023 |
| Preliminary Tests: | 22 November 2023 to 19 January 2024 (Open Monday through Friday, closed Saturday, Sunday) |
PMA Long Course 153 Requirements
Age Requirements for PMA Long Course
Applicants must have completed Inter or equivalent (Age: 17 to 22 Years)
Graduates with 4 years of degree programs (Age: 17 to 24 Years No Relaxation).
Graduation program (BS/BA/(HON)/BBA BPA), Graduates (2 years graduation) & serving PN / PAF Personnel. (Age: 17 to 23 Years 3 Months Relaxation).
Requirements for Serving Army Soldiers (Age:17 to 25 Years No Relaxation)
Visit the Official website www.joinpakarmy.gov.pk
APPLY NOW
Eligibility Criteria to Join Pak Army
Following the given eligibility criteria to Join Pak Army 153 PMA Long Course:
The PMA Long Course is available to Pakistanis as well as residents of Azad Kashmir or Gilgit-Baltistan.
The application is open only to male candidates.
Height must be 5′-4″ (162.5 cm) and weight as per body mass index.
Candidates who secure a minimum of 55% marks in Intermediate (FA/FSC) or equivalent
Those who achieve a grade point average of 60% or higher, with a minimum of 50% in the FA/FSc, may apply.
An active-duty Army or Department of Defense soldiers with FA/FSC or equivalent grades with 50% marks could apply as well.
Mentally and physically fit are required for the position.
A medically fit candidate is required.
The only way for you to become a Commissioned Officer in the Pakistan Army is to complete a long course PMA. You'll find all the information here regarding how to join a PMA Long Course & the qualifications required for PMA Long Course, among other things.
Frequently Asked Questions
Q. 1. How to Join the Pak Army of Pakistan?
Ans. For the latest Army jobs and programs, make sure you check out JobsAlert.pk periodically. Don't miss the opportunity to apply.
Q. 2. When Pak Army vacancies are coming?
Ans. Approximately six months after each advertisement, the Pakistan Army posts it on its website. Online Pak Army Jobs can be found at JobsAlert.pk.
Q. 3. Can I Join Pak Army after matric?
Ans. Get job alerts whenever a course is released by visiting JobsAlert.pk. You can then join the Pakistan Army after your matriculation.
Q. 4. How do I join the PMA long course?
Ans. If you'd like to know when the PMA long course will be available, you can visit JobsAlert.pk. Make sure you register according to the guidelines. If you have all the documents necessary for the registration, you can also visit the nearest Army Selection and Recruitment Center.
Q. 5. How can I become a lieutenant in the Pak Army?
Ans. After 18 months, you are promoted to the first lieutenant. Lieutenant Colonels typically take between five and twenty years to achieve.
Q. 6. How Females can join Pak Army after FSc?
Ans. A lady cadet course is one-way women can become part of the Pakistan Army. Candidates who are unmarried are eligible to apply. By incorporating women into its military, the Pakistani Army is shattering stereotypes.
Q. 7. How can I get admission in PMA?
Ans.Applicants must complete the following levels of education before they are eligible for PMA admission: Matriculation, Intermediate (F.A./F.Sc. ), BA/BSc/equivalent.
Old PMA Long Courses
Interested Blog...
About the Author
Post Your Comment