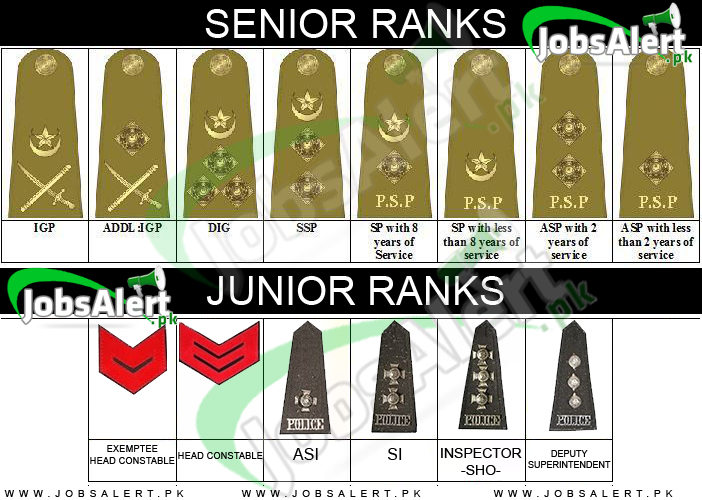 Police Ranks in Pakistan 2023 Badges & Salary / Pay Scale
Every job seeker wants to know about Police Ranks in Pakistan and the salary packages because before joining the police force everyone wants to see the rank on which he/she going to sit.
The law enforcement sectors in Pakistan are doing ceaseless efforts and struggling against terrorism and one of the most renowned, famous sector police is having a high reputation all around Pakistan working on a provincial and federal level.
In Pakistan, in every city has its own police working for the safety of citizens. This department works to create safety and save the city from unwanted crimes and control the deteriorating situations which are going on throughout our country.
Their duty is quite onerous and but they are performing and are working like a Trojan to break the legs of crimes and to get rid of the evil of society and cities which are prevailing day by day very quickly and they are controlling these situations and trying to bring the light of peace. Mainly the police department comprises the following departments namely.
Police Ranks in Pakistan
Pakistan Police Departments
Pakistan Rangers, Frontier Corps, Traffic Police, Highway Patrolling Police, Crime Investigation Department, Elite Police, District Police and special branch. These all departments have their own sort of work.
We can say that like all other law imposing departments police department is also playing a vital role in crime investigation, anti-drug squad, the safety of public properties, law enforcement, maintenance of traffic rules and regulations, and many more.
In order to join the Police department, the education level must be matric level for a constable post if one wants to be an officer of a higher level so one must be a bachelor.
The procedure of joining begins with a physical test afterward clear result of the physical test will push the person for a written test and the last interview is conducted.
Let's tap into the ranks and badges of Police Officers of Pakistan.
Senior Police Ranks in Pakistan:
| RANKS | ABBREVIATIONS | GRADES |
| --- | --- | --- |
| Inspector General of Police | IGP PPO (Provisional Police Officer) | BS 22/21 |
| Additional Inspector General | Addl. IG/CCPO | BS 21 |
| Deputy Inspector General/Regional Police Officer/ City Police Officer | DIG/RPO/CPO | BS 20 |
| Senior Superintendent of Police/ Assistant Inspector General | SSP/AIG | BS 19 |
| Superintendent Of Police | SP | BS 18 |
| Additional Superintendent of Police/ Deputy Superintendent of Police | ASP/ DSP | BS 17 |
Junior Police Ranks in Pakistan:
| RANKS | ABBREVIATIONS | GRADES |
| --- | --- | --- |
| Station House Officer/Police Inspector | SHO | BS 16 |
| Sub Inspector | SI | BS 14 |
| Assistant Sub Inspector | ASI | BS 09 |
| Head Constable | HC | BS 07 |
| Constable | – | BS 05 |
Pakistan Police Badges:
These badges are found to be worn by the different grades of Police Officers of Pakistan who are having high grades. Here I am going to show it below.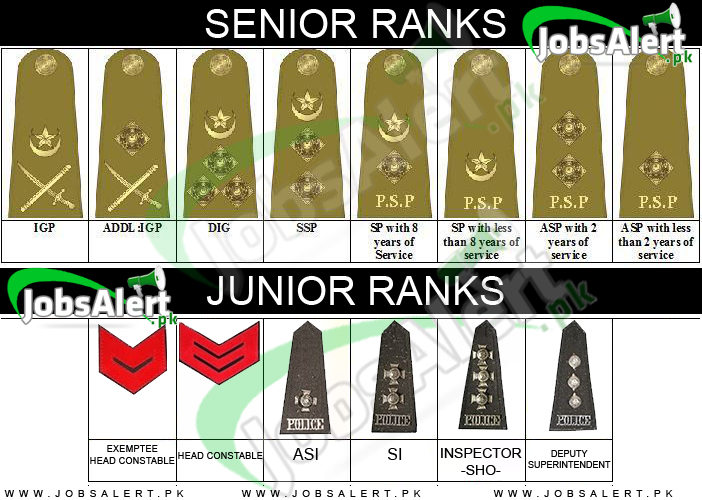 So this is all over about the Pakistani Police Officers and their complete information about their ranks, grades, education status, and badges. If one wants to join this field one can easily join this field.
Police Uniforms in Pakistan:
Every Province has their own designed uniform for its armed forces, here you can see Police Uniforms in Pakistan.
Pakistan Police Salaries / Pay Scale:
In 2023, the salaries of the police in all provinces increased. The increase included 100 percent of basic pay and Rs. 10,000 – Rs. 12,800 of monthly allowance.
More updates related to police salaries will be going to share with our readers
In every province of Pakistan (Punjab, Sindh, Khyber Pakhtunkhwa, Balochistan, the Islamabad Capital Territory, Azad Jammu & Kashmir, and Gilgit–Baltistan) salary & uniforms of police personnel may vary according to their provisional rules.
Interested Blog...
Post Your Comment