NTS Sharing Private Data Information of Every Applicant at Web
---
Offered Salary
PKR 10000, 150000
Here we are going to discuss about National Testing Service which well reputed organization working brilliantly in Pakistan but here we are not going to discuss about its achievements but we'll discuss about its privacy policy which is not satisfying, because it is exposing all private information of each applicant out in the internet that anyone can easily collects information of candidates who are applying in NTS, such as names, father name, passwords, home address and etc, such type of personal information should not be exposed to the world. Several Hundred Thousands Students apply in NTS, so its responsibility of NTS to make its privacy policy strong that no one can access to it. In the following you'll have list of information which can be accessed easily at the official site of NTS.
The information which can be accessed is as follows:
Deposit ID
Name
Father Name
Email
NIC
Password
Auth ID
Test City
Subject
Passport
Gender
Date of Birth
Address
City
District
Mobile Phone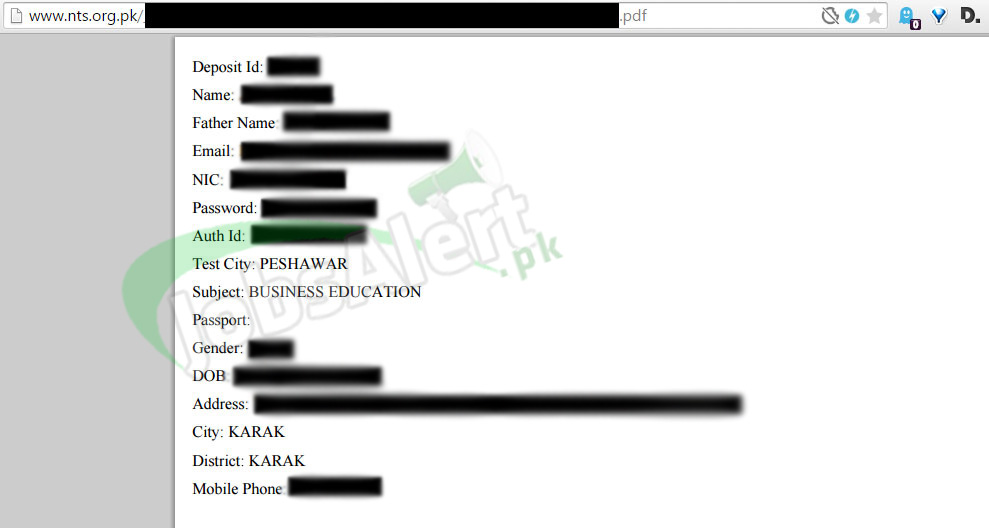 In the following you'll have screenshot from which you can easily understand that such type of information can be accessed. As it is not exact format of URL but we are just providing you similar to it.
By viewing following image you can understand that we are able to able to access information of hundreds of candidates and it can also assumed that anyone with IT background could quicly build a database with the available data.
Frankly speaking it is the worst thing that such type top ranked organization don't have strong privacy policy and we are providing all our personal information freely to it and it has not proper method to secure it.
Its our humble request to NTS that they should give attention to this matter because it is very sensitive issue and it should be resolved and fill the above mentioned gap of security hole at once, because these information can be used for wrong purpose.
Interested Jobs...
Post Your Comment