Top Government Companies working without MDs in Pakistan
---
Offered Salary
PKR 10000, 150000
As we all know that investigation is in process of all government departments and during investigation we found important news that is Top Government Companies Without MDs in Pakistan and according to me it should be shared with our honorable viewers. As Pakistan is in such condition that problems are in every sector because we are facing the curse of corruption in every department and here we are going to discuss one of these problems that why we are not moving to progress.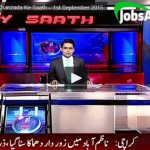 Last night in talk show named "Aaj Shahzeb Khanzada Kay Sath" on Geo News, Shahzeb Khanzada exposed that some top ranked departments of Pakistan are working without their Managing Directors and these departments are working without MDs from January 2015. As the recruitment of MDs for these departments has been done but their final appointment letters are not signed yet, because they are in waiting on the table of PM Nawaz Sharif.
Government Companies working without MDs in Pakistan 2015
Here in the following we'll provide you some names of those departments which are working without the supervision of Managing Director.
OGDCL
NICL
CAA
PEMRA
ERRA
PAK RE
NFML
NFC
PCRWR
Nowadays every single department of any country of the world is making new policies day by day to face the challenges and these policies are made under the supervision of their MDs but it seems that PM Nawaz Sharif is not accepting the importance of above mentioned departments and due to this he is not interested to appoint MDs for these departments.
For to make our viewers more aware to this problem we are sharing Video taken from the talk show "Aaj Shahzeb Khanzada Kay Sath". Watch the video given below and you're your suggestions in the comment box.
Watch Video
Interested Jobs...
Post Your Comment