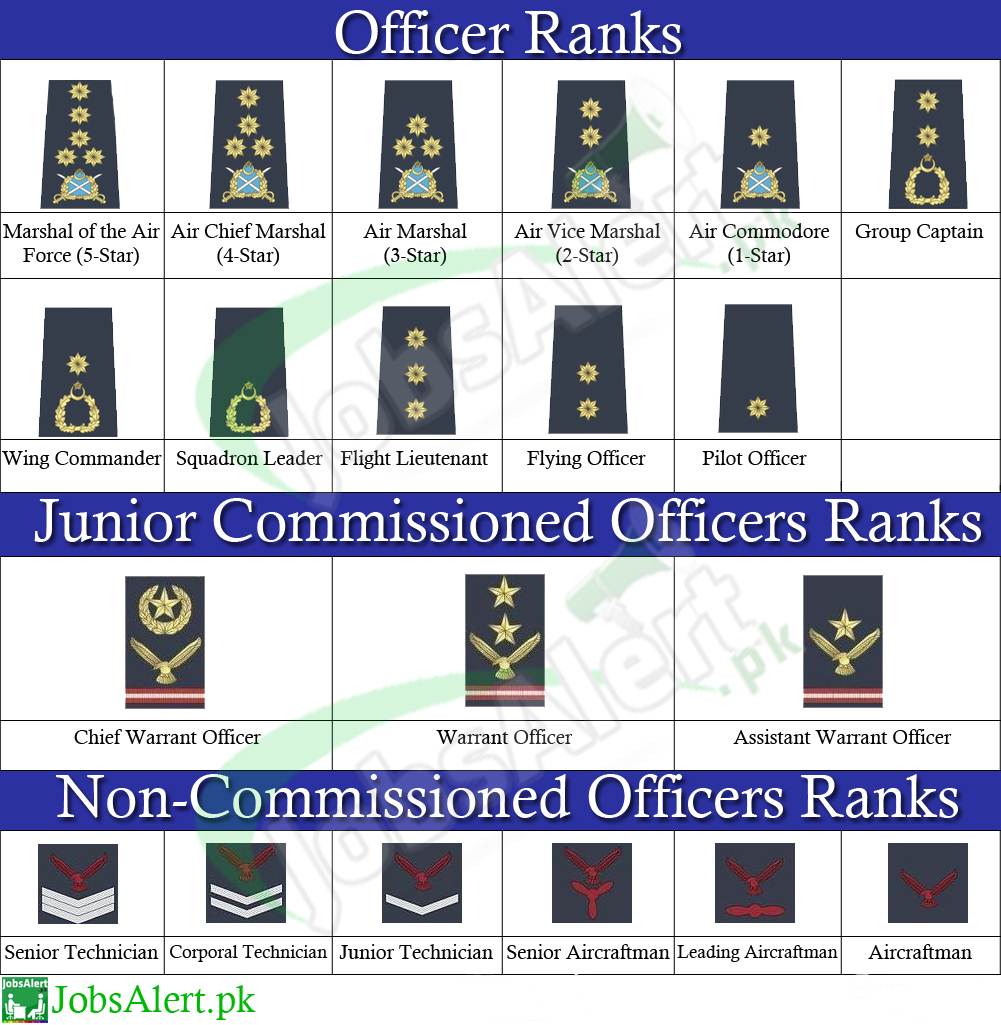 Pakistan Air Force Ranks and Badges, Salary / Pay Scale Information 2022
Today's topic is related to Pakistan Air Force Ranks and Badges, Salary / Pay Scale Information 2022 in which we'll discuss Ranks and Badges / Salary / Pay Scale of Commissioned Officer / Junior Commissioned Officer / Non Commissioned Officers and Civilians. PAF was initially established with the name of The Royal Pakistan Air Force (RPAF) on 14th August 1947 with the independence of Pakistan from British India.
RPAF began its services with 2,332 personnel, a fleet of 24 Tempest II fighter-bombers, 16 Hawker Typhoon fighters, two H.P.57 Halifax bombers, 2 Auster aircraft, twelve North American Harward Trainers and ten de Havilland Tiger Moth biplanes. It also got eight C-47 Dakota cargo planes which it used to transport different supplies to soldiers fighting in the 1947 War in Kashmir against India.
It is the complete list of jets and air force staff that was allotted by British India at the time of independence. After this PAF started its proper journey and initially it started with 7 operational airbases all over the provinces.
Pakistan Air Force has proved himself in different Wars and Operations such as 1965 Indo-Pakistan War, 1971 Indo-Pakistan War, 1979 – 1988 Soviet-Afghan War, Operation Chengiz Khan, Operation Tight Screw, Operation Zarb-e-Azb. There are different Medals which was awarded to officers who led their life for Pakistan in different Operations and here is the list of Gallantry Awards such as Nishan-i-Haider, Hilal-iJurat, Sitara-i-Jurat, Tamgha-i- Juran, Imtiazi Sanad and here is the list of Non Operational Awards such as Sitara-e-Basalat, Tamgha-e-Basalat, Tamgha-i-Khidmat Class I, II, III and here are some Civil Military Awards such as Nishah-i-Imtiaz, Hilal-i-Imtiaz, Sitara-i-Imtiaz, Tamgha-i-Imtiaz and Tamgha-i-Khidmat.
In the above, we put glimpse on the history of Pakistan Air Force from which you can examine that from the time of its establishment it has proved himself in every field it is all due to the passion of Pakistani Nationals who always desire to Join PAF to serve the nation by heart and soul. Currently, there are total 06 Degree Colleges, 18 Intermediate Colleges and 01 Model School, total 27 institutions working with 444366 students, 2486 teaching staff and 1110 non-teaching staff.
In the above, we discuss the History and Institutes of PAF and after that, we are now going to discuss Pakistan Air Force Ranks and Badges, Salary / Pay Scale because most of the users usually search about it for the sake of knowledge and also before joining PAF and there is no doubt that it offers handsome salaries and fringe benefits to its officers and civilian staff, so let's have a look on all on Ranks / Badges and Pay Scales.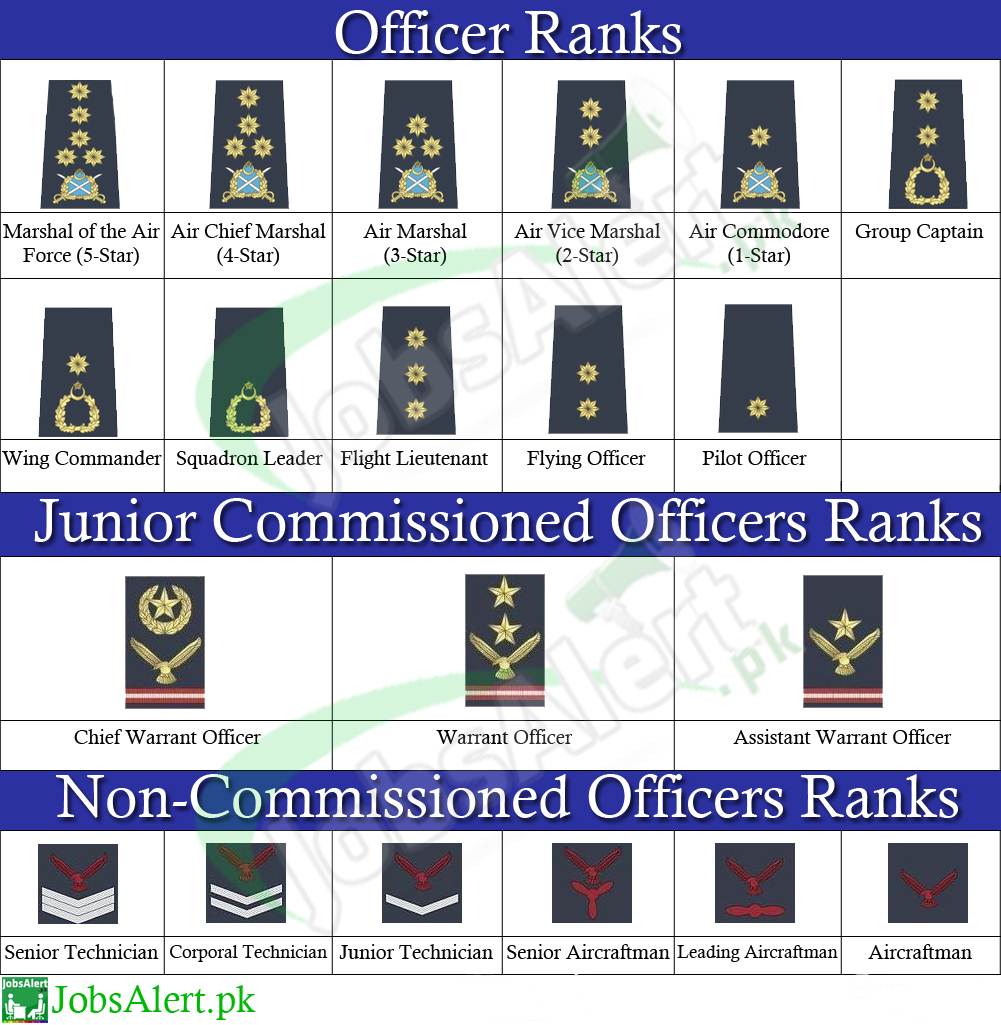 Ranks and Badges of Air Force:
The Ranks of Air Force are primarily based on Royal Air Force rank structure, firstly PAF officers' ranks were set as per the British rules and after that on 05 July 2006, it was set again as Turkish Style. Now in the following, you'll have a complete list of PAF Officers Ranks from top to bottom such as from Marshal of the Air Force to Aircraftman.
Officer Ranks:
Marshal of the Air Force (5-Star)
Air Chief Marshal (4-Star)
Air Marshal (3-Star)
Air Vice-Marshal (2-Star)
Air Commodore (1-Star)
Group Captain
Wing Commander
Squadron Leader
Flight Lieutenant
Flying Officer
Pilot Officer
Junior Commissioned Officers Ranks:
Chief Warrant Officer
Warrant Officer
Assistant Warrant Officer
Non-Commissioned Officers Ranks:
Senior Technician
Corporal Technician
Junior Technician
Senior Aircraftman
Leading Aircraftman
Aircraftman
Salary / Pay Scale:
Officer Ranks estimated Salary Rs. 100,000+ PKR.
Junior Commissioned Officer estimated Salary Rs. 40,000 to 100,000 PKR.
Non-Commissioned Officer estimated Salary Rs. 20,000 to 50,000 PKR.
Interested Blog...
Post Your Comment