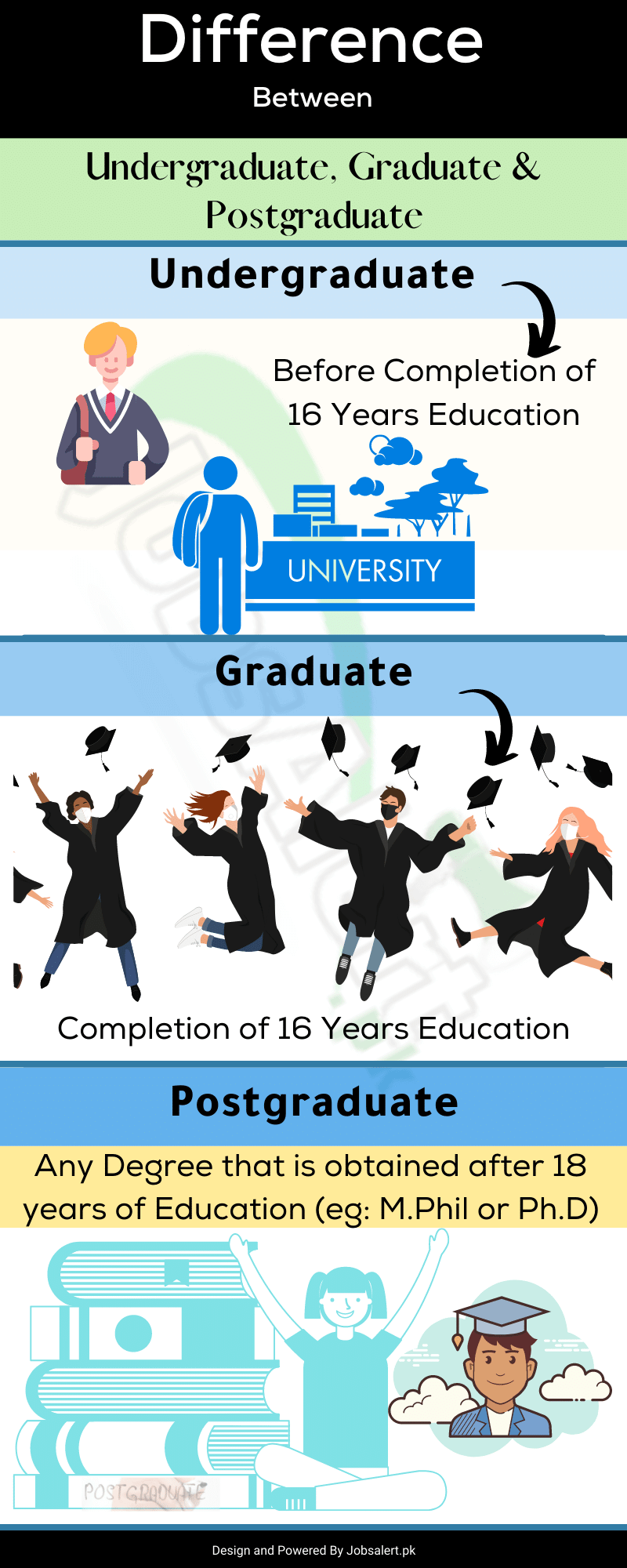 Difference Between Undergraduate, Graduate & Postgraduate in Pakistan
In different countries, the education system is different and thus, their degrees and graduation levels also vary. All of these degrees are official and recognized and they start after completion of school studies i.e. 10 years of education.
Moving from undergraduate to postgraduate degree, there are many significant changes other than the timing of degree.
At each level, there are different levels of expertise as well. The more you get higher in the degree the more specific it will be getting to your subject. Let's say you might have done your Bachelor's degree in computer science or chemistry, physics, or any other field but when you go for higher degrees such as postgraduate degrees, there will be more specific study and more Opportunities for highly paid jobs in Pakistan.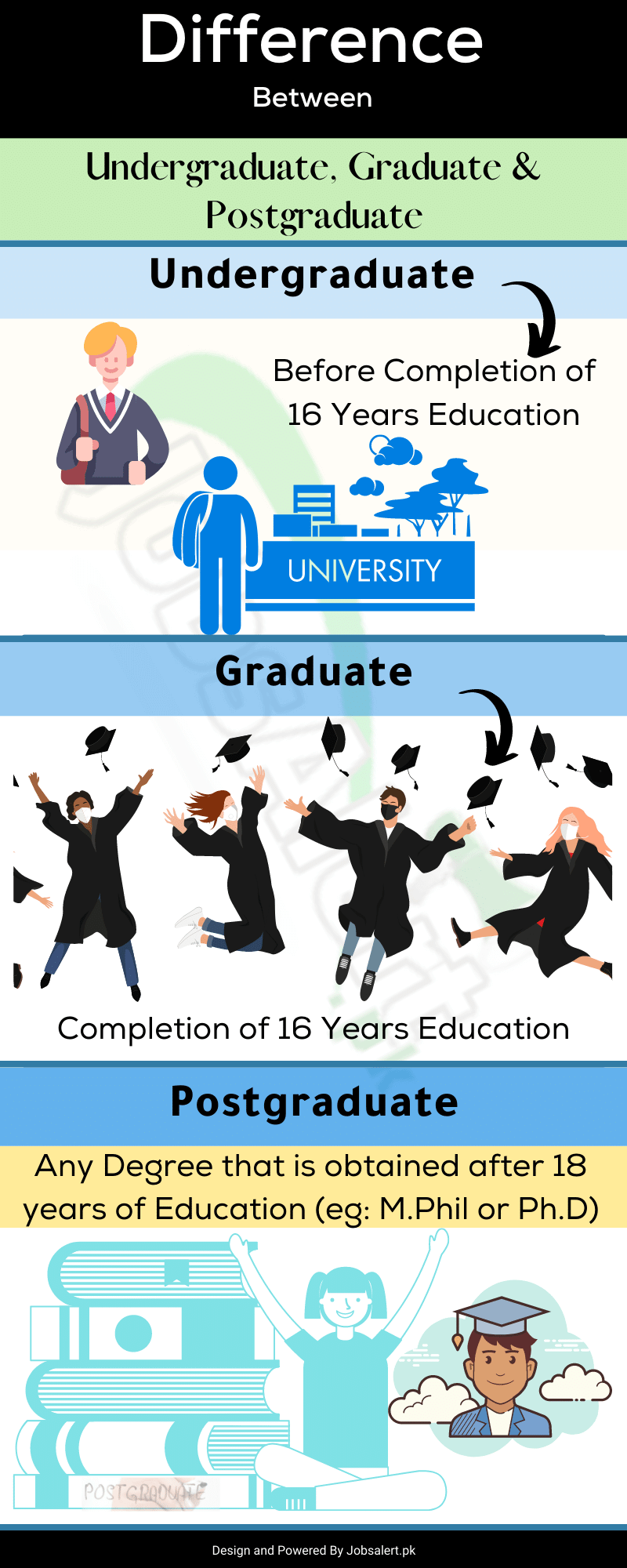 Before preceding this article I want to let you know that all the information in this piece of writing is not according to the international system. The international system of education and degrees is different from the education and degree system in Pakistan.
For instance, according to the international system 14 years of education is not considered a bachelor's degree. While in Pakistan two years of education after intermediate that is an associate degree, is considered a bachelor's degree.
Undergraduate: Under 16 Years Of Education
An undergraduate is one who completes 12 years of education or intermediate in Science, arts, or humanities. An undergraduate is a title, assigned to the person who has not achieved a graduation degree.
In other words, this title is applicable after 12 years of education and remained until the person gets his/her graduation degree.
According to the Pakistani system as recognized by Higher Education Commotion, Pakistan, there are five categories of undergraduate education. It includes BS (4 years education), Professional degrees of 4 and 5 years education, Four-Year Degrees in Disciplines with Councils, and Associate degrees of 2 years.
Associate degrees are the replacement for BA/BSc degrees that were taught at affiliated colleges previously. However, according to the International system, only students under 16 years of education are mainly regarded as undergraduates.
Now let me tell you some more information about associate degrees. The degree is mainly of 2 to 3 years or you can say 4 to 6 semesters in which one has to complete a minimum of 50 credit hours.
Graduate: Completion of 16 Years Education
A graduation degree is obtained by completing 16 years of education from any HEC recognized university. And the one who completes 16 years of education is called a graduate.
For getting this title of "Graduate" a student has to complete 120 to 140 credit hours in 8  to 10 semesters by doing a bachelor in studies (BS). In each semester, the minimum number of required credit hours is 15 that are completed by studying at least 5 subjects with three credit hours in each semester.
In each semester there are one or two minor subjects along with major ones. Those minor subjects are either compulsory ones such as English, Pakistan studies, Islamic studies, etc., or others that might relate to the main course indirectly.
In short, for qualifying for a bachelor's or graduate degree one has to study a minimum of 40 to 50 subjects with 3 credits in 4 to 5 years of duration.
PostGraduate: 18-22 years of Education
Post-graduation is any degree that is obtained after 18 years of education that is an M.Phil. degree or 22 years education that is Ph.D. Degree. In short, any education degree after graduation is recognized as a post-graduation degree.
If you're thinking that postgraduate studies are just advanced studies with some deeper and detailed studies then you are wrong. It has a completely different set of requirements. In post-graduate studies, you are more exposed to the research work than merely sitting in class and attending lectures.
There are two different degrees which are considered to be post-graduate studies, one is Masters also known as M.Phil. degree and the other one is a doctorate Ph.D.
In the case of Masters, the requirement I to complete a minimum of 150 credit hours. Moreover, the thesis work depends upon the requirement of the subject so in some cases masters can be done without a thesis. Normally, it takes almost 2 years to complete a master's degree.
Let's move towards a Ph.D. which is considered to be the highest degree of education. To complete a Ph.D. degree requires a different set of requirements such as a dissertation along with course work.
According to the policies of the Higher Education Commission, a Doctorate requires the completion of 18 credit hours (First Year) course work and dissertation. The dissertation should be approved by two or more Ph.D. experts from academically advanced countries.
Moreover, there is not a fixed time for the completion of a Ph.D. degree. Normally, it takes almost 5 years and in some cases, it takes more duration depending upon the project work.
Frequently Asked Questions:
Q: What type of degree is an undergraduate degree?
Ans: A bachelor's degree or an associate degree is considered to be an undergraduate degree.
Q: Is a diploma an undergraduate degree?
Ans: An undergraduate is a period of getting the first degree after completing intermediate. However, there are options of learning more technical skills by doing diplomas. So, deciding whether or not a diploma is an undergraduate degree, depends upon the type and duration of the diploma. An advanced diploma is considered an undergraduate degree.
Q: How long is a postgraduate degree?
Ans: Masters can be completed in one year if it is full-time. however, if you are doing a Masters part-time it can take up to two years.
Final Words
I hope you have now a better understanding of the terms undergraduate, graduate, and postgraduate from the perspective of the Pakistani education system. All the information that is included in this article is according to the policies of the lasts HEC Pakistan policies.
Many local and international scholarships or you can say financial support allocated by universities and colleges around the globe. Students can apply for them to complete their degrees.
Interested Blog...
About the Author
Post Your Comment