Do you Support Pakistan Army? Some Elements are Trying to Destroy Pak Army Credibility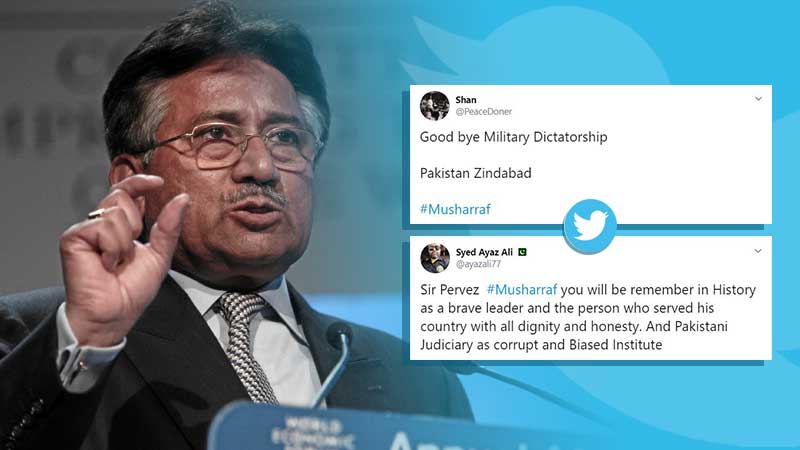 One of the shocking news which is prevailing all around the world is about the well known Ex-President and the renowned COAS (Chief of Army Staff) named General Pervez Musharraf of Pakistan was sentenced to death on 17th of December 2019 by the 2 judges of Federal Shariat Court Islamabad, Pakistan on account of absenteeism for treason over his 2007 imposition of emergency rule. 
[poll id="10″]
Peaceful protest in favour of Pervez Musharrafhttps://t.co/iRDX9DZchs pic.twitter.com/5bWiM5ACvI

— World News TV (@wntvuk) December 24, 2019

Majority of Pakistanis including political parties are opposing the given judgement against the coup over Pakistan Muslim League-N tenure. Most of the lawyers, retired judges and many other well-known names condemned this punishment written by Peshawar High Court Chief Justice Waqar Ahmad Seth and comprising Justice Nazar Akbar of the Sindh High Court (SHC) and Justice Shahid Karim of the LHC. which is against humanity and they are with this man and not only this but the public is also favouring him because he has done great services and works during his tenure. So, now let's take a short outlook on the little introduction of him given below.

Portfolio of Pervez Musharraf:
 One of the renowned personality and the famous Army Person named "General Pervez Musharraf" was the 19th President of Pakistan from 2001 to 2008. G. Pervez Musharraf was born in Delhi and further raised in the populous city Karachi and later on in Istanbul. He studied Mathematics in Lahore at Forman Christian College and for further studies, he went to the UK for studies at Royal College of Defence Studies. As this is the educational stages and if we through light on the further roles of him so in 1961 he entered the Pakistan Army and give his services during the Afghan Civil war in 1964. Being a Lieutenant in 1965 he also took active part during the Indo-Pak War.
 If we come towards the 1980's year so he was commanding an Artillery Brigade and in the 1990's he got the seat of Major General and further got higher scales in Army. As stated above that he remained the President of our homeland since 2001 and 2008 and served the country. In 2008 he resigned because of the threat of impeachment. Currently, he is living in Dubai and is going under the treatment. So, it's the short introduction about him hope so you will get enough of it.
Pakistan Army's Reaction
The death penalty news of the Pervez Musharraf's has raised aggression and bad-tempered all over the country and mostly to the Army. On behalf of General Pervez Musharraf Pakistan Army's Major General DG ISPR "Asif Ghafoor called a Press Conference and tweets that:
DG ISPR Press Conference – 19 Dec 2019 https://t.co/UKKjhGKsap

— DG ISPR (@OfficialDGISPR) December 19, 2019
Statement on decision by Special court about General Pervez Musharraf, Retired. pic.twitter.com/C9UAMT1E4W

— DG ISPR (@OfficialDGISPR) December 17, 2019
So, from the above statement we can judge and we can easily estimate that Pakistan Army is highly aggressive and have reacted multiple times on account of his man. 
 Public Views:                         
I was warning against Iftikhar Chaudrey judges …this is 2014 program. Judicial axis of attack was always ignored by the army. Today, they struck at the most vulnerable moment…☹😡

اس خطرے کے بارے میں بھی سالوں سے آگاہ کر رہا تھا۔ آج انھوں نے پھر خنجر گھونپ دیا۔۔ pic.twitter.com/fM1bWAvgKQ

— Zaid Hamid (@ZaidZamanHamid) December 19, 2019

The death penalty of G. Pervez Musharraf is a serious issue which is directly related to state which holds two angles, some may be in favour or some against the given decision. If we look towards the public so Public is also against this order and people are rallying, protesting and burning the tires and striking in the major cities of Pakistan even all the political parties are in solidarity with him in Pakistan as well as those who are lying in neighbouring countries are also condemning this decision by saying that how such a man can be a traitor who remained loyal to the country and Worked like a Trojan by standing firm and united on all critical situations of Pakistan. People love and admire Army because it's the only force which is hard like and stone and no one can think to break this force and its power.
On 27 December 2019, Rally was organised by Balochistan Awami Party against judicial decision regarding ex President and COAS
General (Retired) Pervez Musharraf. Rally was headed by political leader Mir Zahir Baloch.#Balochistan #DanishKaneria pic.twitter.com/Dd1Oq5K3WK

— Mahwish Khan (@Mishibaloch4484) December 28, 2019

So after, reading the whole of the content we come to conclude that there is no proof found in favour of the given decision by the court. The decision leaves somewhat drastic effects but it is said that "Majority is Authority" so we hope for the best. On the other hand, one major issue is related to the recruitment process in the Army so it will not be affected because people still love this man and they are applying in Army with open hearts because they believe the force and they believe that nothing will change this system and no one can beat the strength of Pakistan Army because Army is as hard as stone and no one can underestimate the power of Army. Do read this content think about it and give your precious comments and let us know your vision about your dear homeland. Hope so you will like the content and get all the points. So, give your comments and ideas what will you say that was this decision is right or wrong?
Interested Blog...
About the Author
Post Your Comment