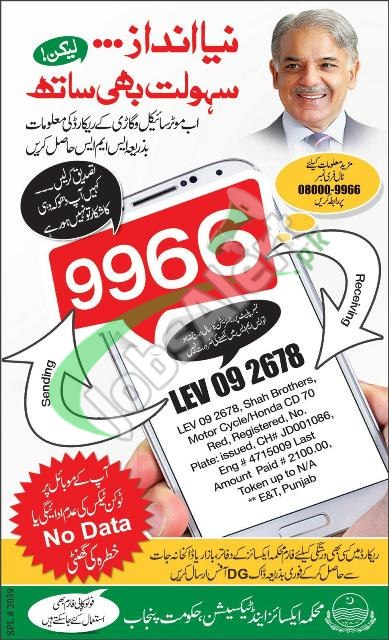 Car Vehicle Registration Check Online in Pakistan MTMIS (Punjab) SMS 2023
This page is all about Car Vehicle Registration Check Online in Pakistan MTMIS (Punjab) SMS 2023. As nowadays amendments are in progress in all departments of Punjab province by the Punjab Government, as CM Punjab Mian Shahbaz Sharif is very keen to provide different facilities to the residents of Punjab and from all new facilities today at this page we'll discuss about the newly launched facility for checking vehicle registration and at this page we'll provide you complete process about How to Check Car Vehicle Registration Online or Via SMS.
This facility is very helpful for all those who are in the business of sale and purchase of vehicle because with the help of it they can get complete information about the vehicle such as owner name, registration number, last date amount paid and token information at any place on their mobile phone.
In the following, you'll have complete information step by step for the checking of vehicle registration online via SMS and if there is any confusion in understanding any point then viewers can call at Toll-Free Number 08000-9966 for the sake of information and there is an operator is available to guide you properly.
MTMIS – Find Registration Details of Vehicle
Currently MTMIS (Motor Transport Management Information System)
is implemented in major cities of Punjab and will soon cover whole Punjab.
Criteria For Online Vehicle Registration:
So, in order to get information about registration the peoples have to enter the vehicle number and click the search button and then the details will be displayed before you.
The details which will be shown include Registration Date, Owner Name, Car Specifications (Engine Number, Chasis Number, Registration Number, Maker Name, Actual Price) and the Owner details.
The searching peoples can try different combinations which are mentioned as under.
So guys, who are residing and living in major cities of Punjab where this facility has launched now they are in a relaxed state that they can find all the details of any vehicle just putting the vehicle number within a blink of an eye through this online system which is as fast as nothing. So must try and enjoy this fastest mode of registration of vehicles.
Check Vehicle Registration Via Mobile / SMS:
As in the above, we discuss complete procedure of checking online vehicle registration but recently Government of Punjab has announced latest facility to the Punjab residents that they can check the record of Motor Bike / Car via single SMS. By using this facility you can check complete record by sending your vehicle number to 9966 and within no time you'll have a complete record in front of you including Company Name, Owner Name, Chassis Number, Engine Number, Amount Paid and Token Validity. So, viewers if you don't have Internet Facility / Laptop / Personal Computer and you wanted to check the record of any vehicle then you need not worry about it because by using this SMS service you can check vehicle record anywhere. Now in the following, we'll discuss its method of checking.
How to Check Vehicle Registration Via SMS:
First, open your mobile new SMS option and Type complete vehicle number including Alphabets and Numeric with Year e.g. LEV 09 2678.
Now send this SMS to 9966.
Within few minutes you'll have a complete record of your desired vehicle.
Interested Blog...
About the Author
Post Your Comment