For Pakistani Students, we'll discuss Top 10 Ranking Universities in Pakistan for BBA / MBA 2021. This information is very useful for those students who wanted to build up their career in Business Administration after Intermediate / Bachelors and in the following we'll provide exact list of top-ranked universities of Pakistan which are providing quality education related to BBA / MBA.
These top ten universities offer Bachelors in Business Administration (BBA) and in (MBA) Master's in Business Administration. Master in business administration is considered as a best degree for individuals in this present era those having this degree can get high paying jobs in business department and on the other hand individuals can also set up their own business.
There are number of the choices in specialization of MBA degree such as Banking, Finance, Accounting, Marketing and Human Resource Management.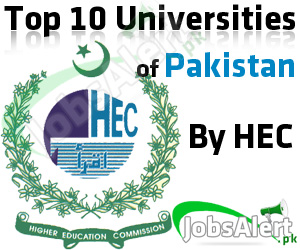 These specializations categories fulfill the demand of candidates who have freedom to choose their desired field and start working and studying the field by their own choice and get its study easy. There are number of great universities regarding BBA and MBA are located in Pakistan in almost every renowned cities of our country which are providing excellent business education to the individuals. BBA course is four year course with two semesters after intermediate we can get admission in it and after it we can do MBA in its any field in which individuals are interested.
Here is the list of top ten ranking business universities of Pakistan which are providing the best quality education regarding business. There is the list of best top ten universities of Pakistan below:
Top 10 Ranking Business Universities In Pakistan By HEC 2021
Lahore University of Management Sciences, Lahore
Institute Of Business Administration, Karachi
Iqra University, Karachi
Sukkur, Institute Of Business Administration, Sukkur
National College Of Business Administration & Economics, Lahore
Shaheed Zulfiqar Ali Bhutto Institute Of Science & Technology, Karachi
Institute Of Management Sciences, Peshawar
Lahore School Of Economics, Lahore
Imperial College Of Business Studies, Lahore
Institute Of Management Sciences, Lahore
These universities are the top ten universities of Pakistan ranked by HEC in 2018-19. This information will surely help students to get admission in the best university to complete the degree of BBA AND MBA.