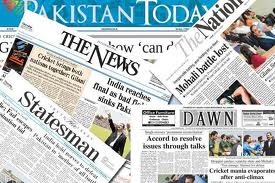 Top 10 English Newspapers in Pakistan 2024
Most of us love to read the newspaper every morning and for all those, we are going to provide information about Top 10 English Newspapers in Pakistan 2024 Newspaper is the oldest source to keep in touch with current affairs which are happening in-country and in all over the world and for this purpose, some of our Pakistani Nationals who are in Pakistan or living abroad use online editions of their favorite newspaper, rather than getting the print edition.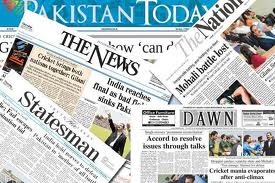 Here on this page, we've discussed the Top 10 English Newspapers in Pakistan 2024, which are popular throughout the world due to their exact and accurate news, and here from our website, you can easily view online newspapers updated on daily basis. In the following, you'll have the list of Newspapers discussed in detail from the time they were founded till now.
1. Dawn:
Dawn newspaper is Pakistan's oldest English language newspaper and it has a huge number of a reader in Pakistan. The Dawn Newspaper was founded by the founder of Pakistan Quaid-i-Azam Mohammad Ali Jinnah in Delhi, India on 26th October 1941, with the purpose of this that the Political Party of that time Muslim League would have a voice in the community and it is owned by the Dawn Group of Newspaper. Now Dawn Group of Newspaper has developed their own website where they issue their daily newspaper online on their website also you can find Dawn Newspaper Jobs here, it is for all those who love to read a newspaper online.
2. The Express Tribune:
The Express Tribune is another major daily English Language newspaper working brilliantly in Pakistan, it is part of the Lakson Group of Companies and it is the flagship publication of the Daily Express media group. The Express Tribune is only Pakistan's internationally affiliated newspaper which is in partnership with International New York Times. The headquarters of this newspaper is in Karachi and it is also published from Lahore, Islamabad, and Peshawar it was first launched on 12th April 2010 and soon they launched the online edition of this newspaper. Also, you can find Express Newspaper Jobs here at JobsAlert.pk
3. The News International:
The News International newspaper is another largest readable newspaper of Pakistan which was founded on 11th February 1991 and the owners of this newspaper are Jang Group of Newspapers. The News has a circulation of 140,000 and is published from Karachi, Lahore, and Rawalpindi/Islamabad. It also has an overseas edition which is published in London that is especially for the Pakistani community in the United Kingdom and it is currently looking for its publication in New York City, USA.
4. The Nation:
The Nation is the second-largest famous English Language daily newspaper based in Lahore, Pakistan. The Nation was founded in 1986 and it has a large number of followers in Pakistan and in abroad. The Nation is also part of the NawaiWaqt Group which also owns a large Urdu language daily paper and it also has a television channel named Waqt News. The Nation and NawaiWaqt have a huge reader base in Punjab and readers follow these newspapers in both print and online editions. Also, you can find The Nation Newspaper Jobs here at JobsAlert.pk
5. Pakistan Observer:
The Pakistan Observer is an English Language daily newspaper launched on 1st November 1988 by Mr. Zahid Malik and it is published in Islamabad, Karachi, Lahore, Peshawar, Muzaffarabad, and Quetta. This newspaper is not much popular as compared to Dawn or The News International, but still, it widely read English language newspaper in Pakistan and its result is this that is published in almost every major city of Pakistan.
6. The Friday Times:
The Friday Times is Pakistan's English Language weekly newspaper. It was founded in 1987 by Jugnu Mohsin and Najam Sethi, both are very popular journalists in Pakistan and both these journalists work hard to make this newspaper very popular within a short time. The Friday times is published from Lahore, Pakistan and it can be assumed that soon it will be published from some other major cities of Pakistan.
7. The Frontier Post:
The Frontier Post is the only English language newspaper that is circulated in both Afghanistan and Pakistan, and it is published from Peshawar, Lahore, Islamabad, Karachi, Quetta, and Kabul (Afghanistan). It was established in 1985 and within a short time, it became the most popular English Newspaper in Pakistan and Afghanistan.
8. Daily Times:
The Daily Times is an English language Pakistani Newspaper which was founded on 9th April 2002 and it is published from Lahore, Islamabad, and Karachi, it is edited by Rashed Rahman. The Daily Times newspaper was owned by the late Governor of Punjab and party member of political party Pakistan Peoples Party Mr. Salmaan Taseer. This newspaper gained popularity within no time not just in Pakistan but also abroad. Editor Rashed Rahman Joined the Daily Times in November 2009 and before joining he worked as Executive Editor for The Post and The Nation.
7. Business Recorder:
The Business Recorder is the biggest financial daily newspaper in Pakistan and it is the first newspaper published in the business category in the Muslim world. This newspaper is owned by the Business Recorder Group and it was founded on 17th February 1965 by the legendary journalist M.A. Zuberi. Business Recorder's website is the best source for all those who wanted to have quick and latest updates on the stock market.
10. Pakistan Today:
The Pakistan Today is another top Pakistan's English Language daily newspaper published by Nawa Media Corporation from three major cities of Pakistan, Lahore, Karachi, and Islamabad. It was founded in 2010 by its editor and publisher Arif Nizami who is a very popular and senior journalist of Pakistan. It is the first Pakistani Newspaper which is to be published in the Berliner format and not it is on the list of the top 10 English Newspapers of Pakistan.
In the above, we've provided you the list of Top 10 English Newspapers in Pakistan 2024. We've discussed these newspapers deeply from the time they were established till now and I'm sure this information will help you to have knowledge about these newspapers.
Please share this page with your friends and relatives on Facebook, Twitter, and other social websites. Stay in touch with us and keep visiting our site JobsAlert.pk for further updates.
Interested Blog...
About the Author
Post Your Comment