Here at this page we are informing you about a tremendous job opportunity in Population Welfare Department in Kasur through ADM Scheme is given which works for the welfare of  family planning based programming and the jobs are basically on contract basis. The department is  giving the career opportunities to the  individuals for the post of Gatekeeper and babysitter having the scale 1 and the age limit for this post is  up to 23-30 years for gatekeeper and for babysitter the age limit should be 20 35 years. The baby sitter must be literate and the middle passed gate keeper is preferred. In this post there is 20% quota for the children of employees and 3 % quota for the disable person who are having the certificate of disability verified from medical and 1 % quota for minorities also. The number of position which is vacant for this post are 22.
Jobs in Population Welfare Department Govt of Punjab Kasur 2016
Vacant Posts:
How to Apply:
The application should be written on plan paper and along with CNIC, all original certificates and if any candidate is Hafiz-e- Quran, domicile along with one passport  size photo should be sent through TCS or through post.
Application which are not sent on due date will not be considered and checked.
According to the Govt of Punjab's policy if the women is above 8 years according to mentioned years and if the men is 5 years above than the mentioned age will be preferred for the job. This facility of age limit should be given though notification number 9-36/81 (&GAD)- SOR.
All the employees will be employed on the rules and regulations of  Govt of Punjab and according to the 2004's policy of the Population Welfare Department and are based on contract basis for 2 years and will be reformed on the better services of employee also.
All the employments and employees are selected on the merit basis and the decision of department will not be challenged.
The authority is having full permission to cancel or change the date of interview without informing anyone else.
According to the Policy of Govt of Punjab 20% quota for the post of gatekeeper will be given to the retired and current  employees from 1 to 5 grade BPS 7 will be secured for the children of   Junior clerk.
No TA/DA will be given to the individuals.
Government employees send the application through proper channel.
The number of posts can be increased or decreased by the authority also.
After complete overview on the documents of individuals the interview date will be send by SMS to the selected candidates.
Candidates must mention their name, address and cell phone number correctly.
All the employees will be  employed through ADP Scheme in new welfare sectors and are unable to transfer to in any other sector.
Jobs in Population Welfare Department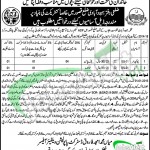 Last Date to Apply:  1st January 2016
Address: Fazal Khan Colony, Ghaffar Chowk Goriawala Bhatta