Cultural Exchange Scholarships Program 2014 IPC Division
NTS (National Testing Service) has Announced Cultural Exchange Scholarships Program Year 2014. Government of Pakistan Ministry of Inter Provincial Coordination (IPC Division)
Last Date for Submission of Applications : Monday, 28th October, 2013
Test Date : Sunday, 17th November, 2013
ELIGIBILITY CRITERIA:
The candidates must have completed Sixteen Years Education that is MA / MSc OR must hold four (04) years B.Sc (Hons) Agriculture , B.Sc (Engg), BCS (Hons), MBBS in the relevant field.
OTHER TERMS AND CONDITIONS:
Maximum age limit is 35 years on the closing date of applications.
Applicants having more than one second division in their academic career are not eligible to apply.
Attested copies of each supporting document (Matric to onward) including domicile certificate, must be sent with the application. The professional degree holders B.Sc Engg / MBBS, B.Sc(Hons) Agriculture should submit detailed marks certificate of each year.
The scholarships are awarded on merit determined on the basis of NTS Test score, observing Provincial/ Regional quota.
The candidates will have to take Language Course of the respective country (if applicable).
Students awaiting results are not eligible to apply.
HOW TO APPLY:
Application forms and online deposit slips are available on our website www.nts.org.pk
Applications must be received by NTS not later than 28-10-2013.
NTS will not be responsible for late receipt of applications sent through post.
Please deposit online through the prescribed deposit slip in the online branches of ABL, UBL, MCB or HBL. Application form and online deposit slip are available on NTS website.
Candidates are required to send their applications to NTS Headquarters, Islamabad on prescribed forms along with online deposit slip (original).
Candidates are not allowed to bring cell phone to the examination center.
Deposited amount is non-refundable and non-transferrable.
Applications submitted by hand will not be entertained.
Cultural Exchange Scholarships Program 2014 IPC Division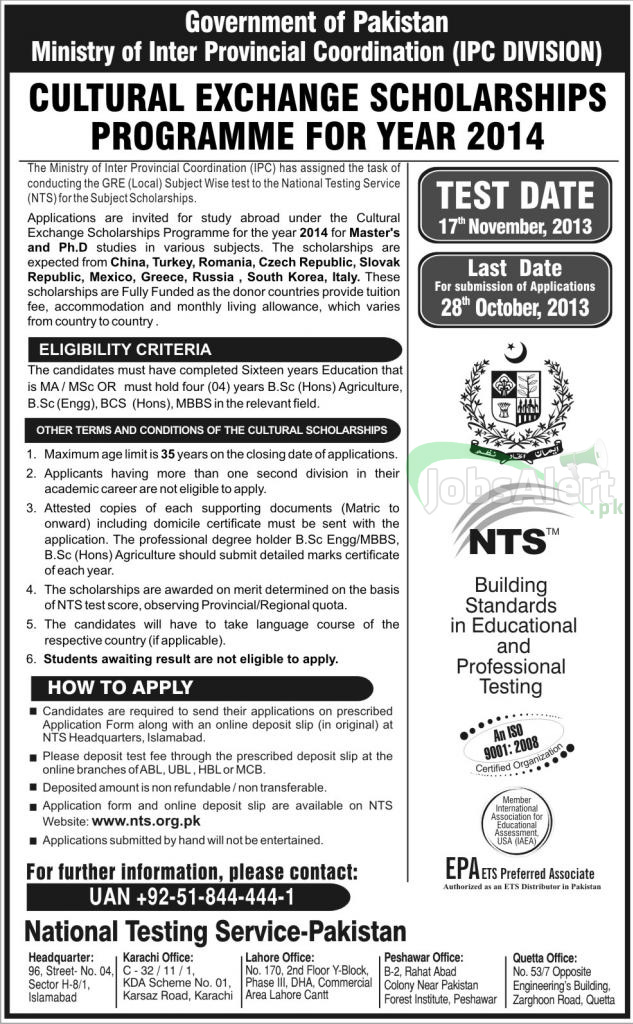 Post Your Comment