Application Form PM Loan Scheme First Women Bank FWBL – NBP
---
First Women Bank Ltd. FWBL and NBP Application Form PM Loan Scheme
FWBL (First Women Bank Limited) and NBP (National Bank of Pakistan) issued Prime Minister Loan Scheme Applications Form to download for Male and Female and you can fill the Application form to submit the FWBL (First Women Bank Limited) and NBP (National Bank of Pakistan). FWBL and NBP also starts to taking PM Loan Scheme Applications form from Monday 9th December 2013.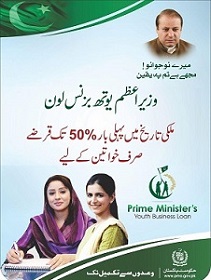 PM Loan Scheme Application Form Requirements:
Original CNIC with Black White Copy
2 Passport Size Photos
Completion of Application Form:
Submit Rs. 100 to the bank
Females age between 21 to 45 year
Some experience of relevant field or holds a business related diploma/certificate
Pricing/Mark-up Rate: 8% p.a.
Tenor: The maximum tenor of the loan is 8 years, including 1 year's grace period. The tenor will depend upon the nature of business, pattern of income and repayment capacity.
Finance Limit: Maximum up-to: Rs. 2,000,000/-
Processing Time: Processing time will not exceed 15 working days after submission of complete basic documents by the applicant.
Borrowers Capital: 10% of the loan amount
Collateral/Security:
Personal guarantee of high net/credit worthy individuals including Government servants minimum in BPS 15.
Hypothecation of Business Stocks.
Repayment of Loan: Equal monthly installments with grace period of 12 months for principal payment Sector and Products All sectors. Borrowers will be encouraged to obtain standardized schemes/projects/undertakings from SMEDA or any other body but this will not be mandatory for the borrower
Note: There is no extra charges, so If any one is asking for extra charges and saying that he will give you loan then please call at 0800-77000 and inform about that person.
Contact Number: 03311006767
Interested Jobs...
Post Your Comment