ICBS Admissions 2016 Imperial College of Business Studies Online Form Download
Here in the following the admission news is being offered from ICBS Admissions 2016 Imperial College of Business Studies Online Form Download. The Imperial College of Business Studies is chartered by the Govt of Punjab and is the advanced institute which provides education in the multiple disciplines which includes Social Sciences, Natural Sciences, Commerce,Medicine, Architecture and Fashion Designing, Engineering, Management Sciences, Computing, Information Technology, Applied Technology are the disciplines which are offered every year and the admissions are offered in them. Currently this university is welcoming the applicants to get admission in the Under Graduate, Graduate and Post Graduate Programs to come and apply for them. This well known university is located in Lahore and possess the high profiled faculty members are there to teach in the number of the programs. So, let's have a look on its applying criteria and name of the disciplines.
ICBS Admissions 2016 Imperial College of Business Studies Online Form Download
Names of Under Graduate Programs:
Engineering Programs:
BS.c Civil Engineering
BS.c Electrical Engineering
BS.c mechanical Engineering
BS.c Mechatronics Engineering
Names of Technology Programs:
Civil Technology
Electrical Technology
Mechanical Technology
Chemical Technology
Electronics Technology
Faculty of Health & Allied Sciences:
Doctor of Dietetics & Nutritional Sciences
Doctor of Physical Therapy
Doctor of Medical Laboratory Sciences
Doctor of Medical Imaging
Doctor of Optometry
BS.c Medical Ultrasound Technology
Post Professional Course in Optometry
Transitional Course in Optometry
Names of Programs in Architecture, Art & Design:
Bachelor of Architecture
Bachelor of Fine Arts (Painting, Sclupture & Miniature)
Bachelors of Fashion Design
BS English
Names of Programs in IT/CS/SE:
BS Software Engineering
BS Computer Sciences
BS Information Technology
For more list of programs have a look to below advertised image
Eligibility Criteria For Under Graduate Programs:
The student who has done F.A / F.Sc / I.Com /A-Level (In three subjects) / American High School or equivalent qualification and Imperial Entrance Examination passed with test score of SAT and interview is required.
Eligibility Criteria for Graduate Programs:
The eligibility criteria for the above programs includes B.A / B.Sc / B.Com / BCS from a recognized university along with Imperial Entrance Examination passed with GMAT score  and after that interview is held.
How to Apply:
Those applicants who are interested to apply so they can apply by downloading the admission from from the university page or can be accessed from the given link below.
Last date for applying is 17th August 2016.
Duly filled and complete admission form with all attested documents and reference letter should be send to the said address.
After accepting the form the applicants have to pay the fee go through the examination and entrance test and finally the interview will be taken from the applicants and after wards the successful applicants will be welcome to join the session.
ICBS Admissions 2016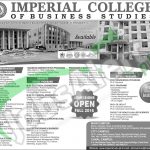 Last Date For Apply: 17th August 2016
Address for  Main Campus: Bahria Shahkhan Chowk, Canal Bank Road, Lahore.
Address For City Campus: 25-B, Lower Mall, Symans Tower Opposite Nasir Bagh,Lahore.
Address for Canal Campus: 4- A, New Muslim Town, Near, P.U New Campus Bridge, Canal Bank Lahore.
For Online Admission Form: Click Here
Click Here For Admissions Advertisement Image
Post Your Comment