Studying is one of the most important things and the most crucial a part of every body's life because it not only makes us a well human being but gives us awareness and make us extremely broadminded personality. So here I am going to share about the student visa for free studying in Italy that what are its requirements and needs to which one can apply from Pakistan.
As we know that the scope of studying abroad has reached on the peak and Pakistani students are mostly traveling to abroad for higher studies and after completing their studies they also offered to do some sort of jobs there along with rules and regulations. Let's discuss the requirements of visa application and many more procedures for getting free studying visa for Italy.
How to get a Free Study Visa for Italy from Pakistan 2020 (Forms, Fee, Consultants)
Embassy of Italy in Pakistan Details
Embassy
High Commission of Italy
Address
Ambasciata d'Italia Street 17, Diplomatic Enclave G5, Islamabad / PO Box N.1008, Islamabad.
Email
[email protected]
Telephone/Fax
+ 92 51 2833183 – 2833184 – 28333185-6-7 / + 92 51 2833179
Website
http://www.ambislamabad.esteri.it/Ambasciata_Islamabad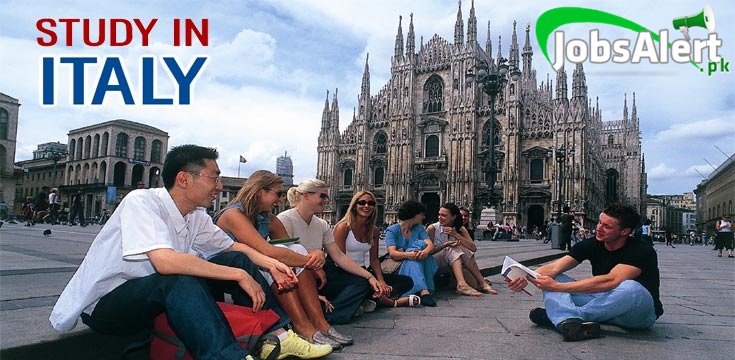 Student Visa details for free studies in Italy:
The Italy commission of education and Cultural exchange has announced free abroad studies for Pakistani students in Italy as well as the US Government also for undergraduates.
These programs are free one can join easily.
For knowing the details about this program here is the contact number, as well as a website for contacting the authority, is available:
Phone: +39(0)6-48-88-211
Address: Castel Eduardo 8, 00185 Rome, Italy
Fax: +39(0)6-48-15-680
Website: www.Fulbright.it
Here is the list of well-reputed institutes in Italy which are providing excellent education and knowledge to students and students get ample of benefit by studying in these institutes. The list is as under:
International School for Advanced Studies
Politecnico di Torino
Universita di Cagliari
Perugia University
University of Catania
Here I am going to share about the above-mentioned institute fields that which fields are related to these institutes.
The international school of advanced studies has opportunities for Ph.D., postgraduates and for undergraduates and is having physics and mathematics subject discipline.
Perugia University is well known for medicine studies.
The Politecnico di Torino has short and long courses for students which provide a lot of technical skills and experience to students.
How to apply visa for Italy:
First of all, the student has to drop an application form to the desired university and got recognition from Italy.
Secondly, a valid passport is needed which should be valid for six months after filling the form.
Four passport size photographs along with the white background.
Proof of having been awarded a scholarship by the Italian government recognized foundations and cultural organizations international organizations, foreign governments or universities. When the amount of the scholarship needs in addition to meet the required amount of media support, economic resources can also be proved by testing media support stay in Italy for an amount not less than that set in the table annexed to the Ministry of Internal Affairs.
The study visa can be got after getting easily the admission in any university while applying the scholarship program for this you have to the admission certificate with the submission of an application for the visa and the recent medical fitness and financial report is also necessary.
First of all, you have to fill the inquiry form for going to Italy and ensure the previous certificates for higher certificates. For availing this opportunity one has to avail the opportunity of study abroad free in Italy.
Study programs for free in Italy:
If one has got a scholarship for study abroad free in Italy so expenses easily can be filled by the accommodation, tuition fee and other charges are refunded by a university.
Sometimes candidates become confused even after getting the admission easily that how to move further for visa application and other procedures.
Documents Required:
Application form
One Passport size Photograph
One full blank page of Valid Passport
The announcement of necessary funds for legal statement.
List of Detailed documents for Student Visa:
Medical Insurance for stay Period
A letter from Italian educational institute addressed to the Italian Consulate General approving recognition of the VISA application, clarifying details of the Italian language course with the grammatical level and other basic programs.
Allusion Letter from an educational institute, in this matter Parola School, which confirms the applicant's status
Guarantee of payment in full for the program of the educational institute
Evidence of housing and address of the student's accommodation.
Proof of Private family resources.
Bank guaranteed document is required in Italy and cheques of travelers are also required in order to estimate about the accessibility of income in Italy (via bank transfer deposit from abroad).
Declaration of accessibility in Italy and they have the necessary funds for exile, it may be shown in the form of a return plane ticket (one reservation shuttle guys).
Insurance for medical treatment and hospitalization to be proved by resources of:
Consular declaration certifying the candidates right to healthcare in the manifestation of specific deals between Italy and the origin country of the applicant.
Insurance policy on external relations of one signed with Italian organizations that companies should include restrictions on the exception to the fee rates established for emergency hospitalization. (Optional, if the university provides the student health insurance).
Academic Records
FedEx requires three copies of visa form along with the complete set of documents at a time.
Step 2: Preparation of DOV (Declaration of equal value)
The second most important thing which takes a lot of time is the preparation of DOV (Declaration of Equal value).
Here I am sharing the modern and advanced requirements of DOC for (Jan 2012). However, there is a little chance of modification in the coming year, so before the start, you're working on it does confirm it from Embassy.
Original along with three photocopies of candidate's Bachelor's degree or of Postgraduate degree which is verified by the Higher Examination Commission (HEC) and ministry of foreign matters and also translated it into the Italian language.
Original records with three photocopies verified by Higher Examination Commission and ministry of foreign affairs (Translation in the Italian language is just not required).
Original and three photocopies of HSSC (Higher Secondary School Certificate) verified by IBCC and ministry of foreign affairs and translate it into the Italian language.
Original and Photocopy of Domicile Certificate.
Three photocopies of passport which are signed by the holder and permitted by Public Notary
Three photocopies of a detailed program of your last degree delivered on university letterhead bearing certified signature and seal of the University and college.
Visa Validity:
The student Visa may be valid for three months to one year. For the restitution, the student must inquire to the embassy of the country of origin.
Time to issue the VISA for Italy:
Duration for issuing the student Visa is approximately two to five days. Besides, time might be different depending on the country of origin.
Visa Fees:
Visa fee is not required for going to Italy.
So these are the hole detail for the requirement of visa-free for Italy and if there is any difficulty in understanding any information then ask us via comments and we'll guide as much as possible.