Jump Content
Understanding IESCO Bill
Tips to reduce the electricity bill
IESCO Structure
Circles and Divisions
How to get Bill
How to Pay Bill
Bill Calculator
Check Lesco Bill Online and Download Duplicate
If we say that we understand your problem, it will not be annoying. You clicked this page because you want to check your LESCO Bill at your home, office or anywhere through using your internet browsing. You are going right because you chose to check your bills through an advanced option in this advanced world. As the world progresses, every system has been advanced to fulfill human requirements. In this reference, we are providing you this page, so that you easily check your bills online without any tension and hard work and it is also a requirement of this latest world. So, it's time to goodbye all your worries.
Please Enter Your 14 Digit Reference Number...
Where to Get These Numbers
These numbers (Reference No. and Consumer ID) are printed on the top of your bill, see below image: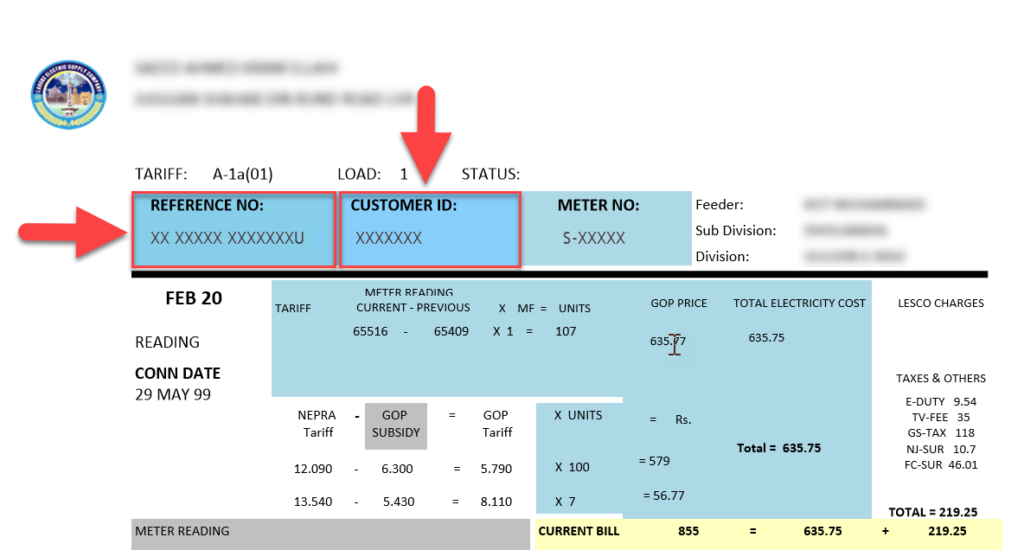 Format of reference number is XX XXXXX XXXXXXXX, which include 14 digits and one alphabet. Same as customer ID have 7 digits and it only includes number into it.
Where You Can Pay the Bill
Once you have LESCO duplicate bill then you can submit it through online or offline both options:
Pay Offline: You can pay your LESCO bill to all the branches of commercial banks and post offices. Make sure to bring your bill printed copy along with you.
Pay Online: You can also pay LESCO Bill online through any bank, EasyPaisa or JazzCash. For bank options make sure you have online banking service activated on your account.
LESCO Bill Calculator
Note:
This is just an estimate cost of electricity, the original bill amount must be higher as it includes taxes etc.
| Slab # | Units | Price per Unit |
| --- | --- | --- |
| 1. | Up to 50 Units | 4.00 |
| 2. | 1 - 100 Units | 10.87 |
| 3. | 101 - 200 Units | 14.00 |
| 4. | 201 - 300 Units | 15.58 |
| 5. | 301 - 700 | 16.85 |
| 6. | Above 700 Units | 18.95 |