9th Class Date Sheet 2022 All Punjab Boards
| | |
| --- | --- |
| Category: | Date Sheets |
| Address: | 86 Mozang Rd, Block B Jubilee Town, Lahore, Punjab 54000 |
| Organization: | BISE Lahore Board |
| Announced Date: | May 26, 2022 |
Today on jobsalert.pk latest updates are available regarding 9th Class Date Sheet 2022 All Punjab Boards for which the Ministry of Education has decided to conduct 9th Class Exams for the academic year 2022 at the end of month May 2022 because now currently SSC-II exams session continues and now students from all over Punjab are appearing for 10th class exams session 2022 for which 10th Class Date Sheet is available at our site.
Students of SSC-I need to prepare themselves for the final exam because now they'll experience a different exam system because from now onward they'll have to appear for final exams in the same way. Students are suggested to keep in touch with our site because we'll provide all the latest updates regarding 9th Class Date sheet 2022 on this page.
| No | Fee Category | Fee Schedule |
| --- | --- | --- |
| 1 | Single examination Fee | February 01, 2022 to February 28, 2022 |
| 2 | Double Examination Fee | March 1, 2022 to March 14, 2022 |
| 3 | Triple Examination Fee | March 15, 2022 to March 22, 2022 |
9th Class Exam Date Announcement:
The Punjab Education Board has announced the latest update regarding 9th Class Exams 2022 that it'll start on May 26, 2022. All students can examine the following 9th Class Date Sheet comprises date and time subject-wise for SSC-I. Students need to examine the date sheet carefully and prepare for the exams accordingly.
SSC Part-I Annual Examination 2022: 26-05-2022
9th Class Final Exams 2022 Updates:
According to the press release published by the Punjab Boards of Committee of Chairman (PBCC) current year's SSC exams are going to be held as per the old examination method like before COVID-19. Because recent years after COVID-19 the examination system was completely disturbed due to which students were unable to appear for school so the Ministry of Education decided to conduct exams from the 1/3rd syllabus. But now currently examination year 2022 will comprises exams from the full syllabus and now students have to prepare very hard to qualify for the next class.
Download 9th Class Date Sheet 2022:
Students from all over Punjab can download the 9th Class Date Sheet from this page for which they have to keep in touch to this page because we'll update all Punjab Boards Date Sheets on this page as per the instructions Ministry of Education Pakistan. So, download the date sheet for SSC Part-I exams 2022 and prepare subject-wise as per the date and time prescribed in the following date sheets released for the Punjab Education Board.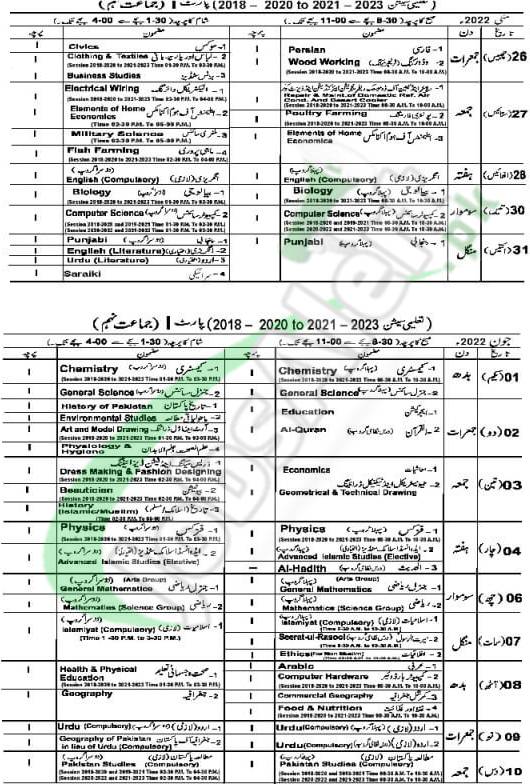 Lahore Board 9th Class Date Sheet 2022:
In the following final and exact 9th, Class Date Sheet for Lahore Board is available comprises subject wise detail i.e. date & time for both Morning and Evening Session. Ninth Class exams are going to start on May 26, 2022, and its last paper will be on June 10, 2022. Students studying under Lahore Board are suggested to download the Lahore Board 9th Class Date Sheet 2022 as soon as possible and start preparing for the final examination session in 2022.
Annual 9th Class Date Sheet 2022 Lahore Board
Morning Time 8:30 AM

Evening Time 1:30 PM

Date
Day
Subjects
Class
Subjects
Class
26-05-2022
Thursday
9th

Civics
Clothing & Textiles
Business Studies

9th
27-05-2022
Friday

Repair & Maint of Domestic Ref.Air Cond. & Desert Cooler
Poultry Farming
Elements of Home Economics

9th

Electrical Wiring
Elements of Home Economics
Military Science
Fish Farming

9th
28-05-2022
Saturday
9th
9th
30-05-2022
Monday
9th
9th
31-05-2022
Tuesday
9th

Punjabi
English (Literature)
Urdu (Literature)
Saraiki

9th
01-06-2022
Wednesday

Chemistry
General Science

9th

Chemistry
General Science

9th
02-06-2022
Thursday
9th

History of Pakistan
Environmental Studies
Art & Model Drawing
Physiology & Hygiene

9th
03-06-2022
Friday

Economics
Geomatrical & Technical Drawing

9th

Dress Making & Fashion Designing
Beautician
History (Islamic/Muslim)

9th
04-06-2022
Saturday

Physics
Advance Islamic Studies (Elective)
Al-Hadith

9th

Physics
Advance Islamic Studies (Elective)

9th
06-06-2022
Monday

General Mathematics (Arts Group)
Mathematics (Science Group)

9th

General Mathematics (Arts Group)
Mathematics (Science Group)

9th
07-06-2022
Tuesday

Islamiyat (Compulsory)
Seerat-ul-Rasool
Ethics

9th
9th
08-06-2022
Wednesday

Arabic
Computer Hardware
Commercial Geography
Food & Nutrition

9th

Health & Physical Educaton
Geography

9th
09-06-2022
Thursday
9th

Urdu (Compulsory)
Geography of Pakistan in lieu of Urdu (Compulsory)

9th
10-06-2022
Friday

Pakistan Studies (Compulsory)

9th

Pakistan Studies (Compulsory)

9th
Other Class Date Sheet
Post Your Comment