NUR International University Lahore Admissions 2016 For BS & MS Programs Announcement
Hey guys, the doors of admissions are open from NUR International University Lahore Admissions 2016 For BS & MS Programs Announcement. The admissions are being announced from NUR International University located in Lahore is the the Govt of Punjab's recognized university and is chartered by HEC is the well known and the well disciplined university which is offering the candidates admissions offers in Graduate and Post Graduate programs to come and make their dreams come true in those programs in which they are interested and wishes to be the part of this university. So, admissions are open for this year 2016. Along with that another good news is there the candidates who will have the degree from their university can become the Entrepreneur for their upcoming time in future. So, all those applicants who wishes to join must have a look who love to be the Business man in future have a look and get admitted here before the time lost. Now, i will remove the curtain from the names of the programs and and will discuss the applying method too.
NUR International University Lahore Admissions 2016 For BS & MS Programs Announcement
Names of the Under Graduate Programs:
Doctor of Physical Therapy
BS (H) Clinical Nutrition
BS (H) Medical Lab Technology
BS (H) Speech & Language Technology
BS (H) Biochemistry with Biotechnology
BS Economics with minor Econometrics
BS Development Economics
Name of the Post Graduate Program
Eligibility Criteria for Under Graduate Programs:
The eligibility criteria for the Undergraduate Programs includes I.com/FS.c. A Levels/ high School Diploma or Baccalaureate are needed to apply for these programs.
Eligibility Criteria for Post Graduate Program:
For the Post Graduate Program the eligibility criteria includes the completion of the following education  of 16 years with CGPA of 2.5 are eligible to apply.
How to Apply:
Interested and willing applicants who want to get admission in these programs needs to apply be obtaining the admission form from the Admission Office which is located near the Fatima Memorial Hospital, Opposite to Gen. Attiq-ur Rehman Auditorium with a cash payment of Rs. 3000 or can be downloaded from the university website too.
The office remains open from 9:00 am to 5:00pm.
The applicants does not attach any co-curricular activities certificate at the time of admission because these will be required at the interview session.
After submission of admission forms the applicants required to go through the Entrance Test.
The applicants who got selection in the Entrance Test will be interviewed by the faculty members and after passing the interview the applicants list will be dispatched on the notice board to join the university.
NUR International University Lahore Admissions 2016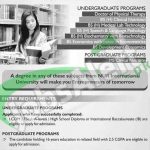 Last Date For Apply: 12th August 2016
Address: NUR International University, C/O Fatima Memorial Hospital, Shadman, Lahore.
Click Here For Admission's Advertisement Image
Post Your Comment