CIIT (COMSATS) Endowment Fund Scholarships 2014-2015
COMSATS Institute of Information Technology (CIIT), Endowment Fund Scholarships 2014-2015. COMSATS is a well known institute of higher learning in Pakistan. CIIT, launched its Financial Support Program to facilitate the needy and deserving students. Institute will provide an opportunity for talented students who are financially not capable of meeting costs of education at CIIT. COMSATS is looking for different scholarships such as (HEC Need Based Scholarships, ICT R&D Fund Scholarships, PM's Tuition Fee Reimbursement Scheme for Less Developed Areas, Pak-USAID Merit and Need Based Scholarship Program, FAWNS, Qarze e Hasna, BS Mathematics Scholarships, Punjab Educational Endowment Fund Scholarship, Worker Welfare Fund Scholarship, Worker Welfare Fund Scholarships, Benevolent Fund and Pakistan Engineering Council Scholarships).
Eligibility Criteria:
Applicant must have at least 70% marks in both Matric and Intermediate examinations and those who are waiting for their results of Intermediate Part-II may also apply.
Only those, securing admission in any bachelors level degree program at any CIIT campust will be considered for the scholarships.
How To Apply:
Apply simultaneously for admission as well CIITEF Scholarship. Application forms can be downloaded online.
Submit CIITEF Scholarship Application form along with all relevant documents at the campus where you want to apply for admission.
To Apply Online: Click Here
CIIT (COMSATS) Endowment Fund Scholarships 2014-2015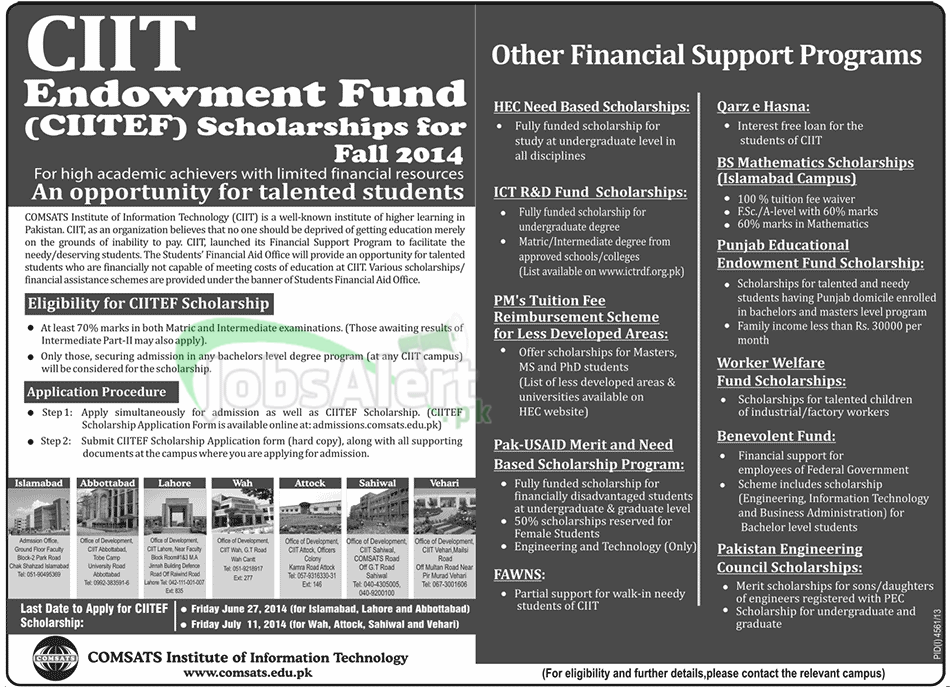 Post Your Comment