As we all are familiar with the word website actually it is a site where one can see different informative things regarding the whole of this world things and this website is having information on the top and detailed information too which help individuals to work and read and follow the instruction and get knowledge.
So here I am going to talk about the job websites in Pakistan as in Pakistan number of the job websites are present which posts daily jobs and career opportunities for unemployed individuals along with detailed information.
Now I am going to enlist the top ten job websites in Pakistan.
Top Ten Job Websites in Pakistan 2020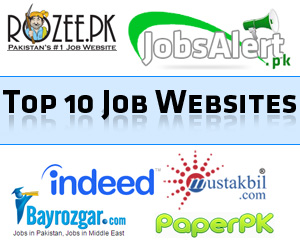 Rozee.pk:
This website is one the first number and is one of the best websites for the job search along with simple procedures in which an individual can post and develop its own CV and send to the respective job mail for which one is going to apply. Its search process is very easy and simple just two questions, job title, skill or company, and location.
Mustakbil.com:
Mustakbil is another top job searching website which is working in Pakistan and post a daily number of the jobs which include middle east countries jobs also. The jobs are posted by category, type along with salary which gives full detail about one job. It provides another facility in which if a person is self-employed and has an opportunity to posts its own job details also.
JobsAlert.pk:
JobsAlert is one of the well-recognized and the most popular job searching website which daily posts ample of a job for individuals. The website is a trustworthy website and provides employment offers for international, national, city wise jobs, Government jobs, private sector jobs, NTS jobs, overseas, online jobs also.
Pakistanjobsbank.com:
Pakistanjobsbank is listed is a list of top ten websites of jobs and one can easily find jobs over this website of government and non -government jobs on the internet as well as on newspapers also.
Paperpkblog.com:
Paperpkblog is another site for job search and classified jobs are also posted there daily. You can subscribe their service by email. Old papers are also available for students. Moreover, a lot of CV templates are available here that will help you in making comprehensive C.V.
Roziroti.pk:
Roziroti is another job searching website which gives its posts in famous newspapers of Pakistan namely Dawn, Express, Nawa-i-Waqt, Jang, The nation, Mashriq, Kawish and Aaj newspaper also. This website posts city wise along with full details of job description on the internet also.
Jobz.pk:
Jobz is the site for job searching in which all types of jobs are posted every day of all categories in all sectors like government, private and non- government organizations also and freelancer jobs are also available also.
Indeed.com.pk:
Indeed is another job searching website and is full of every day with new type and categories of jobs in ample. It starts with two options what and where. Insert the job title, keywords or company name, and location like city or province and find the right job along with creating your CV.
Bayrozgar.com:
Bayrozgar is on the list of top ten and obviously, this website is also working for the job posting and posts jobs category wise along with gender, city, and salary in which an unemployed individual find the job easily and quickly. If you are an employer you can post your job here without any cost. This job portal is the platform of Pakistan leading companies and organizations. It also lists the recruitment firms in Pakistan.
Mehnat.pk:
Mehnat is also a leading job website in Pakistan which not only provides job search but also gives educational information for the individuals of all types. Moreover, you can also submit your C.V. This site also use full for those students preparing for competitive exams like Public Service Commissions and CSS.
In summing up my article I must say that these websites are Pakistan's famous and informative websites which provide accurate and updated information easily one can drop the CV and get a job selection mail easily.